The Arielholics Pass-Along Story
In the fall of 1997, the members of the Arielholics Anonymous Mailing List (a mailing list devoted to the Disney film The Little Mermaid and its main character, the great and powerful Ariel), got together to do a pass-along story, where one person writes the first part, then someone else writes the second part, etc.
Because of various factors, it took a while for the whole story to be compiled in one place. But finally, here it is for the whole world to enjoy!
To my Little Mermaid fan fiction links
To my Little Mermaid coloring pages
Color, graphics, etc. coming soon!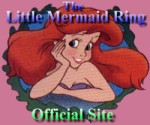 This Little Mermaid Ring site's webmaster is ShadZ.

[ Next Site - Next 5 - Previous - Random ]

Want to join the ring? Get the info.

The Little Mermaid Ring member site
This page has been visited

times since Jun 2, 1999.

Shad Z. Daly
This page last modified Thu, Mar 9, 2000.

"Ariel," "The Little Mermaid" and all characters and distinctive likenesses thereof, including the images on this web site, are copyright Disney Enterprises, Inc. ("DISNEY"). This page is neither sponsored nor endorsed by DISNEY, nor do any views or opinions expressed on this web site represent the views or opinions of DISNEY. The author of this website is not an employee of DISNEY.